Friday, May 4, 2007
Katie Couric was looking, well, satellite headed at the 25th Annual Frederick Law Olmstead Awards Luncheon on May 2.
at 1:35 PM Labels: couric 1 comments

Thursday, May 3, 2007
Anna Kournikova was looking very skinny last year and she seems to be coming around. Even though we can't see her full body you can tell she is looking much healthier in this pic taken yesterday in South Beach Miami.
at 11:16 AM Labels: kournikova 0 comments

This picture of Brad Pitt and Angelina Jolie at dinner in Prague looks like a movie still. You can definitely see love in her eyes.

Annnnnnd then Brad realizes the razzi are out there and pleads for a break. Give 'em a break.


at 11:05 AM Labels: brangelina 0 comments

Last post before I start puking again and climb into bed...I had to get these Tom Brady-Gisele Bundchen pics out because I know how all of us get pumped about this situation.

The couple was snapped Wednesday, May 2, in NYC. Talk amongst yourselves. :)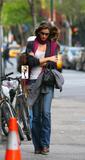 at 10:45 AM Labels: gisele, Tom Brady 16 comments

I have really been dragging these last few days and have had a tough time getting out of bed.

This morning I got up and headed outside to blog, got the Francis post in, then had to run to the bathroom to Upchuck. Sooo, I'm going to lay low for a bit and try to post later.

Thanks for always checking in. Love you kids.
at 10:31 AM Labels: Bits of Upchuck 5 comments

"Girls Gone Wild" pimp and Florida jailbird Joe Francis was interviewed by Tyra Banks before he went to jail last month ('bout damn time) and she asked why there are never any black girls flashing their "girls" in his videos(um, why's she watching them to find out?) and Francis responded: "Here's the problem with black girls - they want to get paid. ... [Other girls,] I just ask and they do it."

Cheap and sleezy...yeah, they often go together. The interview will air on the Tyra Banks Show Monday.
at 9:53 AM Labels: joe francis 0 comments

Wednesday, May 2, 2007
I implore you to take a look at these disgusting and incredibly disturbing pictures. What are you looking at? You're looking at a 17-yr-old Kurdish girl named Du'a Khalil Aswad who was stoned for a 1/2 hour until she died. Why? To salvage her family's honor which had supposedly been shamed because Du'a was in love with a teenage boy who is Sunni Muslim and she stayed out all night one night.

My eyes are full of tears thinking of how this girl was hiding for her life - how 8 or 9 men reportedly stormed the home of a Yezidi tribal leader in Bashika - dragged her outside in front of a large crowd - and pummeled her with large stones she finally died. A large crowd watched - a local security force watched - AND NO ONE DID ANYTHING. SHAME ON ALL OF YOU. SHAME ON EVERY FUCKING LAST ONE OF YOU.

Please don't try to tell me that honor killings are rare these days. I call bullshit on that. What's rare, and I'd like to know if it has ever happened, is that bastards responsible for these killings, acid attacks on women & beatings, being brought to justice.

I have never approved of this war but for reasons with my own government - but these last few years have really shown me just how deeply rooted middle eastern problems are - how these civil wars amongst religious groups will never end because nobody wants to put down their fucking guns and swords to live in peace. How can a place ever be peaceful when they think it's OK to beat, throw acid at, behead or kill in any way, women whom the men deem dishonorable.

Of course not everybody in the middle east condones or participates in this behavior but no one intervened either. Let those who disapprove of such behavior and civil war stand up and take control of their country.

I beg to know: WHY ARE WE FIGHTING FOR THESE PEOPLE?! We may want peace and harmony for Iraq and the rest of the middle east - but wanting it more than they do gets us nowhere but home with thousands of dead soldiers and dozens of thousands of amputees, soldiers with brain trauma, burn victims & more.

BRING EVERY SINGLE SOLDIER HOME NOW. Their barbaric acts and thousand(s) year old civil war is NOT OUR FIGHT.

Shame on everyone who watched 17-yr-old Du'a Khalil Aswad die in the streets while being stoned. Shame on a group of people who find honor in such killings. Shame on a society refusing to investigate and prosecute these barbarians. Shame on our President and this administration for sending our mothers, sisters, brothers, fathers, uncles, aunts, nieces, nephews, cousins, friends, future doctors-teachers-laborers - you name them - over to fight such a ridiculous war. SHAME ON ALL OF YOU.

I pray that Du'a Khalil Aswad is at peace. I am so sorry she had to live and die the way she did. You are not forgotten.
at 7:30 PM Labels: Iraq 21 comments

I'm not really ragging Lily Allen for her weight - I don't like doing that - what I am saying is that the smoking is unhealthy (duh) and her legs would really shape up with some exercise. They're looking a whole lot like tree trunks. Maybe I'm still peeved at her for trash talking Americans then quitting her damn tour. Whatever.

And dayum if her brother doesn't look like an uglier version of Matt Damon. Dude could totally get "stand-in" work on a Damon film set.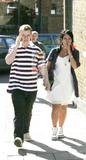 at 4:17 PM Labels: Lily Allen 4 comments

Brad Pitt was snapped carrying little Pax Thien from a private jet after the Jolie-Pitt family landed in Prague where Angelina Jolie is set to film "Wanted" in which she plays an assassin who agrees to take on an apprentice.

Can't wait to see more of the fam. source

at 3:52 PM Labels: Brad Pitt, jolie, pax 0 comments

Still trying to save his reputation after saying racist things about "Grey's Anatomy" castmate T.R. Knight, Isaiah Washinton is reportedly set to do public service announcement for GLAAD (the Gay & Lesbian Alliance Against Defamation).

Washington had yelled, "I'm not your little f-ggot like T.R. Knight!" to co-star Patrick Dempsey during an on-set fight and later denied issuing the slur in the Golden Globes press room, "No, I did not call T.R. a f-ggot. Never happened, never happened."

How much of an idiot do you have to be to use the same slur you got slammed for using when trying to claim you didn't use it? Oh, and don't even get me started on entering rehab for it. Grrrrr, he irritates me deeply.

Regarding the GLAAD PSAs, Washington's rep, Howard Bragman, said, "We're gonna have — I want to say at least two versions of it at this point."..."We may broaden our message a little."

Let's hope he has turned the hate corner onto tolerance lane! Ehgads, was that too cheesy?

at 3:09 PM Labels: Grey's Anatomy 1 comments

...but you should probably do it for your PARTNER and not your ex-lover.


Jolie & Olivier in 2004 or so.
Angelina Jolie spent some time in New York for the official launch of Global Action for Children and to show her documentary A Place in Time at the Tribeca Film Festival - but she also took time out to catch-up with an old reported fling, Olivier Martinez.

Us Weekly is making a big hullabaloo about an eyewitness account of Jolie at an afterparty at Gin Lane:
"She turned to him on the banquette and was shaking it in front of him. She was giving him a lap dance, " another reveler tells Us. "She was looking over her shoulder, tossing a glance his way."

As another partygoer describes it, "It was very, very flirty."

"When she is with someone she knows, she might appear to be flirtatious, but it's just affection."
I'm sure this was all harmless fun but we all know Brad won't be able to contain her for long. She has always been spicy and always will be spicy! Hopefully she had some cheese and crackers with her red wine 'cause she could stand to gain 5-10lbs. I'm just sayin'...
at 2:49 PM Labels: Angelina Jolie, olivier martinez 0 comments

"Studio 60" star Matthew Perry was seen cuddling actress Piper Perabo at the Tribeca Film Festival after party for his movie "Numb". Said a source: "They were on a couch holding hands and he was rubbing her back."..."She snuck into the movie after everyone was seated, then arrived with him at the party but wouldn't take pictures."

Matthew has been unlucky in love so I hope he's happy right now! "STUDIO 60" RULES!

at 2:37 PM Labels: Matthew Perry, perabo 1 comments

Oooooo, word on the street is that actress Neve Campbell (of "Party of Five" and "Scream" fame) and her longtime beau, British actor John Light, are set to marry this Saturday at a top secret Malibu location.

According to the NY POST, close family and friends were instructed to "stay mum" on the subject. The couple lives in London but Neve is in L.A. shotting episodes of "Medium" (love that show!) so they decided to do the deed in Malibu.

Light, an actor with the Royal Shakespeare Company, reportedly proposed last February ('06) on bended knee while reciting Shakespeare...'cause she doesn't here you reciting that stuff all around your flat? Cheesy McCheese dude!

at 1:35 PM Labels: light, neve 0 comments

The 2007 Tribeca Film Festival in Nueva York just won't end! Drew Barrymore and Eric Bana looked smashing at the premier of their new film "Lucky You" which is set to launch nationwide this Friday (May 4). If you're hawking a movie about luck you best wear green to it's premier!

Click the Tribeca link below to see all kinds of pics from the festival and click Drew's link below to see her roughing it at the Coachella Music Festival in Indo, California.


at 1:14 PM Labels: Drew Barrymore, e.bana, tribeca 1 comments